Snowtrax Race Squad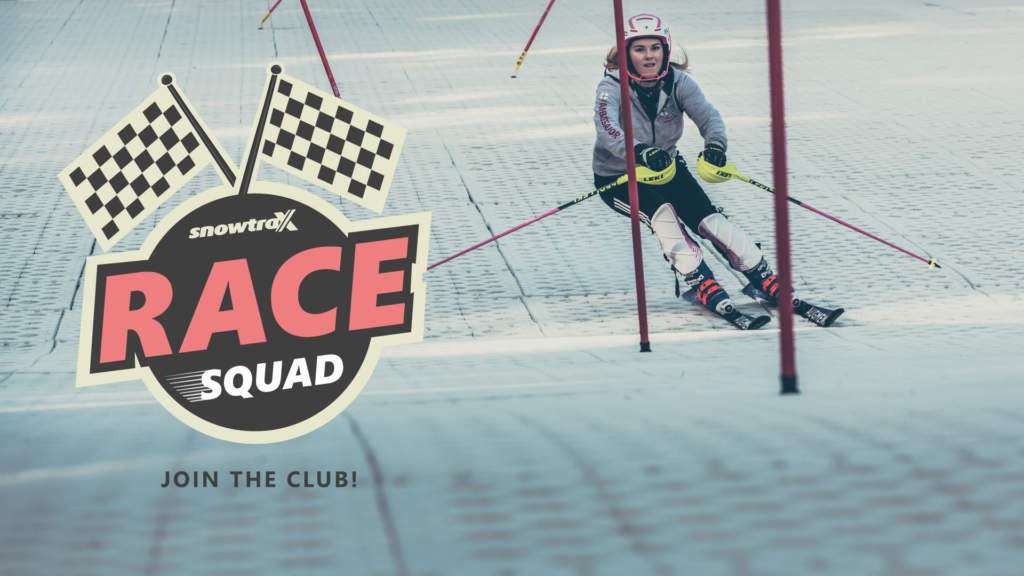 We're VERY excited to welcome you to our NEW Race Squad!
Snowtrax Race Squad (Ages 6+ years)
The pinnacle of Ski Performance and Race  – Looking to Race competitively? Look no further. Our NEW Race Squad has been engineered from the ground up to offer youth athletes the best training and facilities possible so that every Race Squad member can be the best they can.
Plough Parallel: Improve level and performance, Ski at same speed as a buddy, Synchronised, Targeted side slip parallel turns (2 mats wide with pole plant), Carve Turns, Short radius through bumps, High speed carved turns, Javelin Turns, Railing, 360 spin no stepping, Backward Parallel Turns.
Introduction to Slalom racing through cones and modified poles. Slalom pole training includes a combination of exercises to develop all aspects of ski performance. Different course layouts are used to make courses more technically demanding and improve the level of performance for all race team members. Our sessions are fun and active with our highly qualified team of coaches!
Due to the advanced nature of this ski tuition, Race Squad sessions are usually by invitation only, based on technical ability and dedication. We often invite the best performing individuals from within our Junior Academy. If however, you are interested in joining Race Squad, but are not currently an attendee of our Alpine Rockets Academy Sessions – speak to our Reception or Coaching team, to see if ski racing at Snowtrax is for you!
FAQ
Who can attend Race Squad?
Skiers that have been referred by our team of coaches. Skiers that have advanced through the Snowtrax academy.
What ages are our racers?
Children can join our race squad from the age of 6. We have a mixture of ages within our team, in a friendly environment whereby children can mix and enjoy the love of Snowsports!
What kit do you need to get started?
Kit hire for skis, boots and helmets are available. Most Race Squad members have their own skis, boots and protective equipment – this vastly improves development and maximises performance. Come and see our Snowtrax store for the latest Race Ski equipment advice.
When is race squad?
Every Wednesday from 6pm and Saturday from 5pm.
What is the difference between Race Squad 1 session and Race Squad 2?
Race Squad 1 is for ages 6+
Race Squad 2 is for ages 12 years + including teens and adults!
Welfare
Snowtrax Race Squad is fully committed to safeguarding the welfare of all children in its care.
Our Club Welfare Officer can be contacted if you have any concerns about the welfare of any member of the club, or require any information about our safeguarding policies.
Club Welfare Office: Alie Handle
Email: alie@snowtrax.eu
Phone: 01202 499155 (option 1)
PRICING
£17.60per session
Annual membership fee of £35.00pp
(Incl. 1 x Race Squad Jersey)
TIMETABLE
Every Wednesday:
Race Squad 1 (AGES 6+): 6- 7.30pm
Race Squad 2 (12 years +): 7.30-9pm