Learn to Ski or Snowboard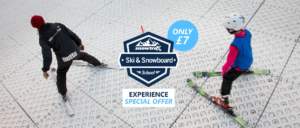 Always wanted to try out skiing or snowboarding? Now is the time! We are offering experience sessions for absolute beginners which will aim to get you sliding down the slopes. Our professionally trained instructors will be on hand to guide you through or specially formulated session to make sure you enjoy every minute!
Equipment included:
Skis or snowboard
Boots
Helmet
What to Bring:
Long sleeve shirt and trousers (no tight jeans)
Gloves – anything to cover your fingers!
Long Socks
How to Book:
Just call one of our friendly Reception staff on 01202 499 155 today and book in for one of the times below.
No prior experience is necessary
Timetable
22nd September   2.15pm – Snowboard
23rd September    1.15pm – Ski
29th September    1.15pm – Ski
29th September    2.15pm – Snowboard
30th September   11.15am – Ski
6th October          1.15pm – Ski
6th October          2.15pm – Snowboard
7th October         12.15pm – Ski
13th October        2.15pm – Snowboard
13th October        3.15pm – Ski
14th October        4.15pm – Ski
27th October        2.15pm – Ski
27th October        3.15pm – Snowboard