GENERAL INFORMATION
These coached practice sessions are an informal way of gaining additional tuition, in a relaxed pressure free environment. One of our professional instructors will be on hand to offer help & guidance giving you hints & tips to help improve your technique.
CURRENTLY POSTPONED DUE TO CORONAVIRUS 
Ski Classes: Mon – Friday 10am-11.30am
An informal session with one of our professional instructors. Below is an outline of the suitable levels for each of the daily sessions:
Monday – Beginner/Intermediate (Levels 4+)
Tuesday – Intermediate/Advanced (Level 5+)
Thursday – Intermediate/Advanced (Level 5+)
Friday – Advanced/Intermediate (Level 5+)
Instructor Training: Monday 7pm
Advanced coaching session for anyone who would like to train as a ski instructor. This session runs on a Monday night from 7pm, please contact us before attending as we do not run this all year round.
Ski Slalom Night: Mondays 7.30pm – 9.00pm
Need to blow away some cobwebs from those race skis or wish to learn the basics of racing? No problem, the Team Snowtrax Head Coach runs this session so you are sure to get back into the groove and pick up some great tips.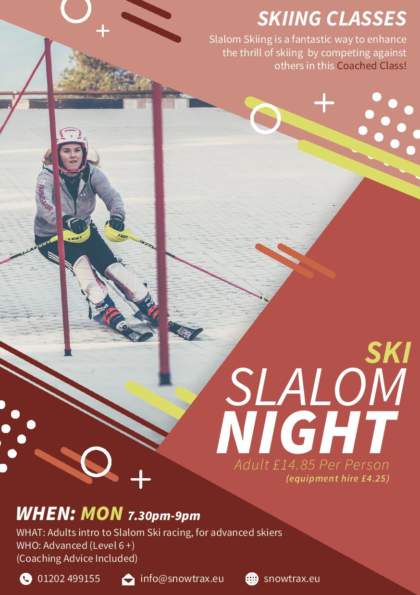 Freestyle Class

These sessions are for intermediate and advanced skiers looking to extend their skills.
Freestyle – SEE MORE ON OUR FREESTYLE CLASS PAGE
Friday: 6:30pm-8.30pm
Sat: 6.30-8.30pm
ABILITY LEVELS
To attend our coaching sessions you must be of the minimum standard required to practice on our slopes without an instructor.
Able to sidestep up and down both sides, straight shuss and create a snowplough.
Able to snowplough glide, brake and stop.
Able to do all of the above, use a ski lift safely and perform linked snow plough turns.
PRICING
Daytime Sessions
Ski Club
£14.60
(Includes 1 free coffee)
Evening Sessions
Instructor Training
£14.60
Adult Introduction to Slalom
£14.85
*Ski Equipment Hire = £4.25 (This includes Helmet, Skis and Ski boots).
Saturday Freestyle (and Tuesday in Summer)
£15.85
U16 £13.85
50% OFF ALL SESSIONS FOR LIFT PASS HOLDERS