GENERAL INFORMATION
SAVE MONEY and Eat Free with this superb offer! Ski all night then relax for a well earned meal in our Alpine Bistro.

CURRENTLY POSTPONED DUE TO CORONAVIRUS
Price Includes:
Recreational Ski Session until the slopes close.
A choice of 1 Basket meal
Additional charge of £4.25 if you require equipment hire
Basket Meals
Fish & Chips
4oz Burger in a bap & chips
Vegeburger & chips
Chicken breast burger & chips
Chicken nuggets & chips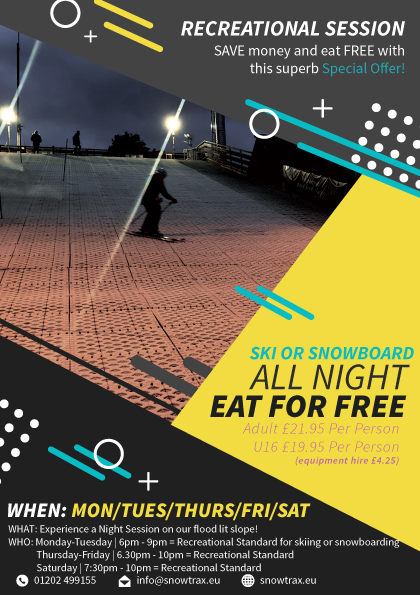 ABILITY LEVELS
For safety reasons we cannot allow inexperienced skiers on the slopes without guidance from one of our qualified instructors.
If you do not meet the required recreational standard (see below) then you must book lessons, please contact us to discuss the various options.
Required Recreational Standard
1) Able to sidestep up and down both sides, straight shuss and create a snow plough.
2) Able to snow plough glide, brake and stop.
3) Able to do all of the above, use a ski lift safely and perform linked snow plough turns.
For the health & safety of all of our customers, members of the public are not permitted to teach others at the centre. All inexperienced skiers must book lessons with one of our trained instructors.
PRICING
£21.95 Adults and Under 16
Includes basket Meal
add £4.25 for equipment hire – if required
TIMETABLE
Mondays & Tuesdays from 6.00pm until 9.00pm
Thursday & Fridays from 6.00pm until 9.00pm
Saturdays from 6.30pm – 9pm
*excludes Wednesday nights due to Race Club.
Please note there will be limited space on the slope due to Freestyle Club sessions from 6.30pm until 9.30pm on Friday & Saturday evenings.