SAVE THE DATE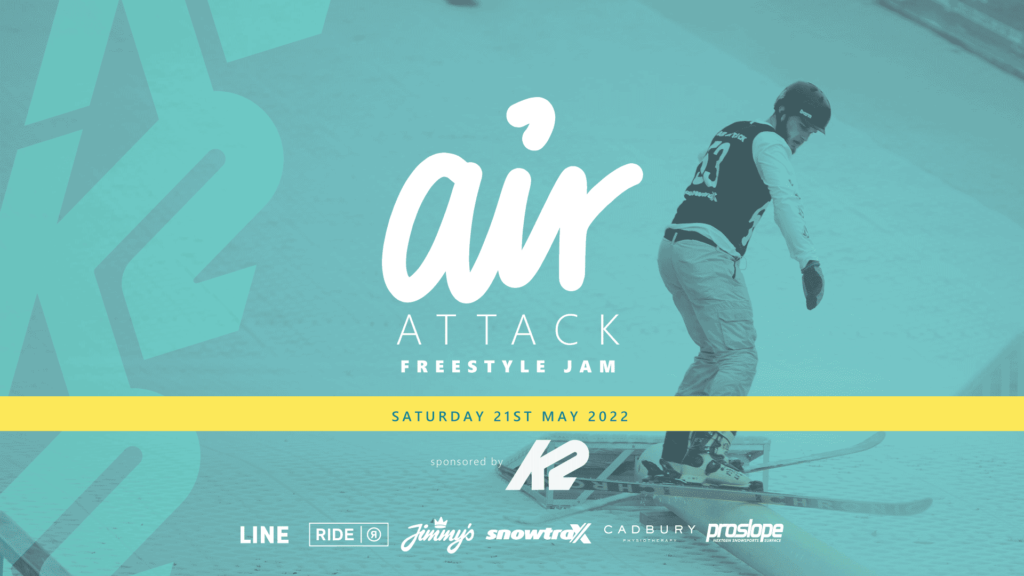 The Air Attack Freestyle Jam, is a fantastic annual Ski and Snowboard Competition that attracts people from all over the UK! With the competition everyone from first time freestylers, to seasoned amateurs and even sponsored team riders, you can always expect some stunning freestyle action from local and national participants! Air Attack Freestyle Jam is sponsored by K2 – who provide spot prizes, branded freebies AND an impressive competition prize pool across a multitude of disciplines and categories!
The K2, LINE, RIDE and Full Tilt themed Prizes form just part of the story – with party vibes, Alpine Bistro food and a DJ spinning tunes – there's always something for everyone, whether you're here to compete or wanting to spectate and soak up the atmosphere with like-minded people. Being one of the biggest Outdoor Ski and Snowboard competitions on the South Coast – this years Air Attack party will continue after the last tricks and spins have been thrown down!
PRICE
£20 – 16+ (£10 for Lift Pass Holder*)
£16 – U16 (£8 for Lift Pass Holder*)
Both charges are +  £10 Air Attack Bib Deposit, that must be worn by all competitors.
*Lift Pass Holders will need to call 01202 499155 to pay the reduced rate.
Entry Requirements
This event is for Skiers & Snowboarders who have had some experience on freestyle features. You don't have to be a pro to enter, just as long as you're able to ski or snowboard on our main slope & have had some experience with freestyle features. We only have limited entry spots available so early registration is essential if you want to ensure your spot is reserved!
Competition Schedule: Saturday 21st May 2022
*Please note – the following schedule may change for logistical reasons – please check back closer to the event
U12 Registration: 4pm-5pm
U12 Practice: 4.30pm-5pm
U12 Competition: 5pm-6.30pm
U12 Prize Giving from 6:30pm
U16/16+/Over 35's Registration: 6pm-7pm
U16/16+/Over 35's Practice: 6.30pm-7pm
U16/16+/Over 35's Competition: 7pm – 9pm
U16/16+/Over 35's Prize Giving from 9pm
Park Layout
Coming Soon.
The Events Declaration and Terms and Conditions document can be found here. There will also be a signature physically required on the day of the event.